*quick note here: the pictures for step 2 are with a larger hook and yarn to illustrate the directions easier*

Supplies
Worsted Weight Yarn (I used Red Heart Super Saver in Paddy Green and Grey Heather)
F (3.75mm) crochet hook
Stitch markers.
Optional supplies: 1 hook each smaller and larger than F (3.75) for finishing work and drawstring.

Gauge
20 stitches per 4" (10 cm)

Notes:
I recommend doing a quick gauge square. You don't want this to end up too big or not big enough!

This pattern is for the classic ipod size. If you have a different sized one, like the nano, the directions are the same except you will need to chain less stitches at the start. Chain enough that you can lay the chain across the width of your ipod and touch the table underneath without stretching.

If you change the width, keep in mind that you should always chain an even number. As that becomes important for round 23's drawstring gaps.


Stitches used:
Ch = chain stitch
slst = Slip Stitch
SC = Single Crochet
HDC = Half Double Crochet
DC = Double Crochet
dec = decrease (Single Crochet)


Instructions:
Chain 16 in MC.

HDC in third stitch from hook. Continue to end of row. (14 sitches)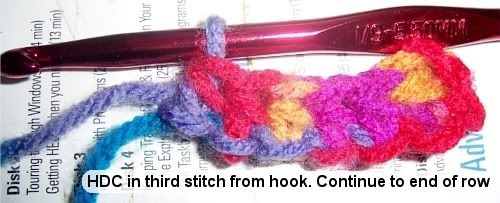 At end of row, CH1. Yarn over, DC 3 in space between last two stitches, on the side of the row.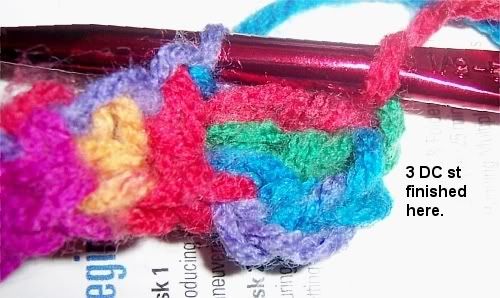 CH 1. HDC in back of the previous row's stitches.


At end of row, CH1.


Yarn over, DC 3 in space between last two stitches.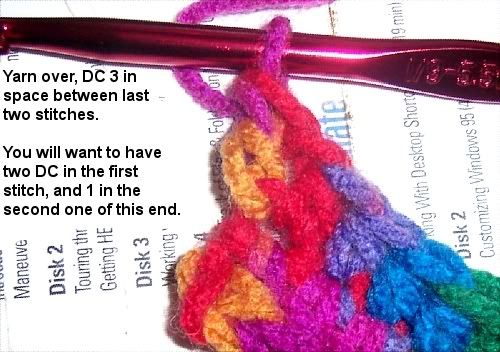 You will want to have two DC in the first stitch, and 1 in the second one of this end.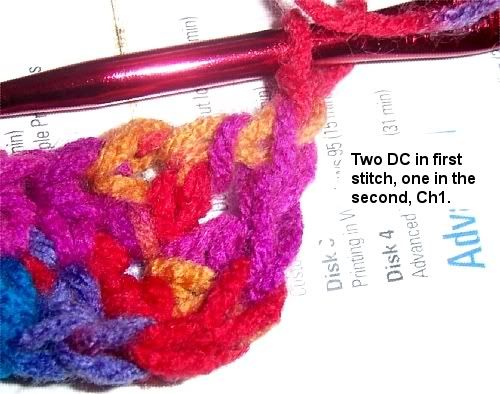 Place stitch marker in the ch1.

Rounds 2-4. SC in each stitch. It will sort of roll up a little on itself. This is normal and what you want. You'll flip it right side out at some point =)

Round 5- SC as usual until you get to first turn. dec 1 stitch on the turn. SC until second turn. dec 1 st

Rounds 6-18 SC.

Rounds 19-21 SC in CC.

Round 22: SC in MC.

Round 23: SC 1 *Ch 2, skip 2 st, SC 2* rep from * to end of row, SC in last space.

Round 24: SC in each stitch.

Round 25: Scallop edge if desired. Pattern I used: *Ch 2 SC in next st, slst next st*
Bind off, and use smaller hook to weave in ends.

Drawstring:
I used this stitch pattern to make the drawstrings using a J (6mm) hook. But the same idea can be achieved with a simple DC chain. You want it to be approximately the width of your stripe so that it does not slip through the holes in round 23.

The length of the drawstring: Make it long enough that you can wrap it around your project completely and across the front a second time.


Finished Product: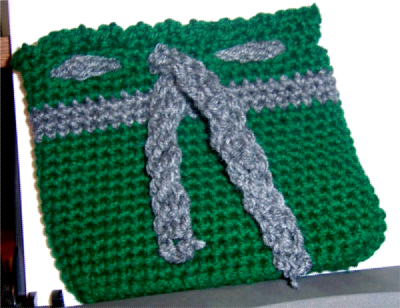 For a faster project (or to just be different!) chain 22 at the beginning and you can make it sideways, like mine is here.