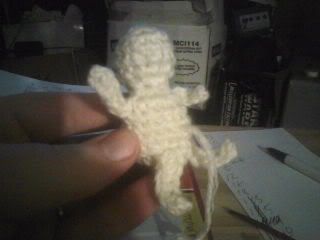 Crochet babies to go with
snuffykin's Doctor Who doll pattern.

Materials:
10 yards of skin colored yarn
Size E hook (3.5mm)
This makes a head and body as one part, and then you add legs and arms. Sitch count in parentesis. Starting with head:
Use a magic circle technique to sc 5
sc twice in each sc. Pull circle closed tight. (10)
*SC, 2SC* (15)
SC around (15)
*SC, SC2TG* (10)
Stuff head.
*SC2TG* (5)
3SC in first sititch, 2SC in next, 3SC in next, 2SC in last two stitches. (12)
*SC, 2SC* (18)
SC around (18)
SC2TG on stitches 1, 5 & 11, SC in every other stitch (15)
SC around (15)
*SC, SC2TG* (10)
Stuff body.
*SC2TG* (5)
cut yarn, pull tail through stitch to knot last sitch shut and then weave tail through body. If it's long enough, you can pull it through where the belly button would be and make a fetus baby. ;)
Arms:
In one of the rounds that has 18 st, draw up a loop. Chain 5. SC back to the body (4 stitches). loop back to body, tying ends together if needed, then weave tails into the body.
Legs:
In second to last row, do as you did for arms, drawing up a loop. Chain 7. HDC back to body and secure leg to body. Weave tails into body.
Then you can use embroidery floss to make eyes and lips or some for hair if desired.